Extrusion process: the great properties of fibrous proteins
Climate change requires each of us to change our consumption habits and do something for the planet. Changing our habits to protect the environment? Meat consumption is often singled out as one of the most frequently cited solutions. For a good reason: did you know that almost 50% of the world's cereal production is used to feed livestock? Reducing meat consumption by switching to vegetable proteins is therefore tantamount to reducing your carbon footprint in a world where the global population continues to grow.
So, if eating insects doesn't appeal to you, rest assured: there is a more palatable alternative to meat. That alternative is meat analogues plant based. This arcane name simply translates into what is commonly known, colloquially, as "fake meat". A slightly biased name: fibrous proteins are derived from vegetable proteins, notably from legume flour. They are usually processed so as to have the same texture and taste as meat.
It is no coincidence that these proteins have now come under the spotlight: vegan and vegetarian diets are establishing themselves as an underlying trend and their cultural significance is also becoming more and more noticeable. For agribusiness, this is a shift that needs to be made in order to appeal to a customer base that is aware of new ethical issues but is not ready to lose its taste for good things…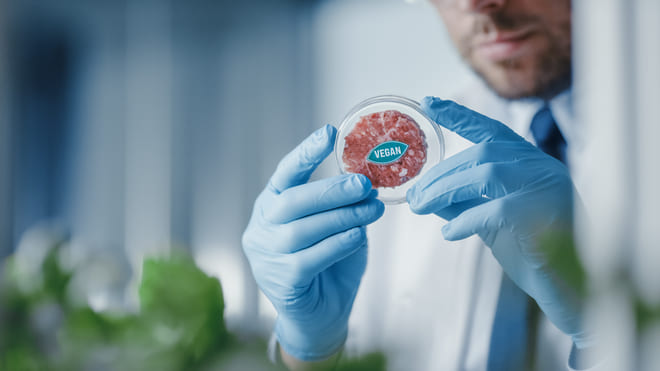 Integrating fibrous proteins into the processes
Fibre protein products are mainly used as a substitute for meat. Their advantage: the vegetable proteins from which they are made are low in cholesterol and fat, but rich in fibre and nutrients. Flours are usually extracted from plants such as soya, cereals or legumes such as peas, chickpeas or lentils.

It is no longer a secret that extrusion is one of the most popular processes for producing fibrous proteins. To tell you all about it, we hand it over to the expert in the field: company Clextral, a true pioneer of this technology. Based in France, this French company celebrated its 60th anniversary in 2016 and has never stopped developing extrusion technology.

Extrusion consists of transforming raw materials, introduced in the form of powders, to obtain fibrated products whose texture varies according to the process used. For example, the dry process results in a rather spongy texture, whereas a wet process results in a highly fibrous product, resembling the texture of meat. The finished product has the same protein content as meat: a significant nutritional argument. At the end of the chain, the finished product can be sold as a semi-finished product or processed like meat in order to perfect its taste and resemblance.
Switch to fibre with IGENIUM!
Extrusion allows food companies to diversify their offer by developing products for the flexitarian, vegetarian and vegan markets. Igenium chose Clextral for its know-how in the field of fibrous proteins, notably through their long track record and their joint expertise with a number of international research centres and universities, including the Saskatchewan Food Industry Development Centre (SFIDC) and HES-SO Valais-Wallis, in Switzerland (the University of Applied Sciences, Western Switzerland – Valais) for the development of new recipes.
With more than 50 fibre protein plants worldwide and an established presence in Switzerland, Clextral is a flexible SME, highly specialised in extrusion and with strong values:
Hygienic design of equipment
Tailor-made production capacities: from 10 kH/h to 600 kg for wet extrusion and up to 3500 kg/h for dry extrusion
Environmental responsibility: The production of fibrous proteins accounts for 95% less carbon emissions than the production of beef.
Are you interested in extrusion? With its expertise in the field, Igenium can provide you with global project support tailored to your needs.
Our tailor-made support consists of 6 phases:
Phase 1 – Identifying the goals: providing advice and assistance in drawing up the preliminary drafts. (PPS): Preliminary project summary and (PPP): Preliminary project proposal

Phase 2 – Drawing up specifications: providing advice on and drafting specifications

Phase 3 – Comparing offers: providing advice and assistance in the preparation of order files

Phase 4 – Assisting in the decision making process: drafting a support document on potential investments

Phase 5 – Providing support on the project: assisting the project owner or project manager

Phase 6 – Assisting in the development and coordination: assisting the project owner in developing the plant.