Nestlé / Nescafé
a holistic solution to optimize storage and automate production
As part of the Nestlé Group, Nescafé is one of the most iconic and best-known coffee brands in the world. Since this instant ground coffee was created in 1938, it has been produced at Nestlé's historical production site in Orbe, Switzerland.
In the light of a new Investment Programme, aiming the increasing of the production capacity by 20%, Nescafé entrusted Igenium in proposing a solution to allow Nescafé to properly increase its production capacity by implementing a solution automating the raw material reception process and modernize certain production processes. This solution also freed areas needed for the logistics for further usage.
CHALLENGE: Integrate an innovative automated solution for storing and batching the raw material in an existent environment
As a result, the brand needed to increase its capacity to receive and process green coffee beans, known as green coffee. This meant optimizing the processes for unloading, cleaning, and storing the coffee beans, as well as dosing and preparing the batches to be transferred in the roasters
Nescafé aim to increase the production capacity by 20%.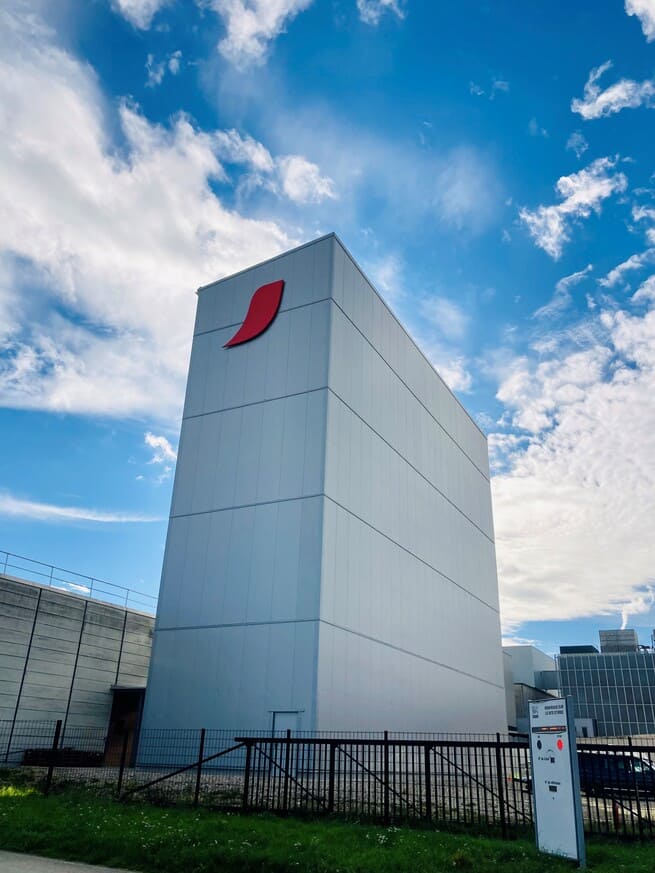 SOLUTION: Innovative storage and efficient automation
Igenium was commissioned by Nescafé to automate the systems for unloading and processing green coffee beans. The station for receiving green coffee beans works just one shift a day, while coffee production operates 24/7. Green coffee arrives by train, and is then unloaded, cleaned, and stored in industrial big bags within a classic flat storage unit. All operations were undertaken manually, with all the risks involved.
By looking at the big picture and asking Nescafé the right questions, our team came up with a solution that not only delivered on the client's original request; it went a step further to provide extra benefits.
During the pre-engineering phase, we worked with the client to audit their existing installations and create a functional block diagram, followed by a process flow diagram and 3D layout. This systematic approach enabled us to propose an innovative solution that enabled Nescafé to maintain its existing equipment rather than replacing it, while also benefiting from state-of-the-art technology.
Our turnkey solution consists in uniting the delivery and cleaning of green coffee with the roasting process. To achieve this, we implemented pneumatic lines across the site and constructed 16 vertical silos of 150m3 each. Through this configuration, Nescafé is able to automate and optimize both storage and processing.
The storage silos use square bolted panels surrounded by panel sandwich cladding. This allows the pneumatic lines to deliver green coffee into the silos while also reducing building construction costs.
After storage, our compact system enables the simultaneous dosing and preparation of 16 batches an hour, with 7 tons of product transferred automatically for roasting by pneumatic conveying. In total, the green coffee beans are transported about half a kilometre across the site.
BENEFITS: Increased capacity and optimized precision
Thanks to the new vertical storage facilities, Nescafé uses fewer big bags and can store 1,400 tons of coffee in a facility that is 25 meters high and has a ground footprint of just 200 m2. This allows the company to store 1,800 big bags, which would require a surface area of 2,500 m2 in a traditional storage facility.
Automation has also had a major impact. There is no longer any need to manually fill big bags. This has eliminated the inherent risks associated with the manual handling of goods. Furthermore, the pneumatic lines can transport 8 batches of 450kg of coffee beans per hour per line. The two lines installed by Igenium therefore allow Nescafé to transport 7.2 tons per hour, or 170 tons every 24 hours.
In addition, automated dosing guarantees an accuracy range of +/-0.3%, ensuring that the roasting process is even more efficient. Automation also helps Nescafé improve the traceability of its products while ensuring a consistent quality for its recipes.
Throughout the implementation of the solution, Igenium acted as an intermediary, co-ordinating the different project stakeholders involved in the construction and offering Nescafé peace of mind so it could focus on its core business of making great coffee.
Furthermore, the storage facility has been designed to be easy to expand, allowing Nescafé the flexibility to further grow its production capacity in the future.
Feedback from Alexandre Donose, Project Manager at Nestlé:
« During the Proposal Requests, Ingenium stood out by their innovative approach. They answered perfectly to the request and added their knowledges by proposing an innovative solution that satisfied all the stakeholders. More than a technical solution the added value of Ingenium is their communication skills, answering clearly to all requests. During the implementation phase we've asked several modifications that Ingenium took into account and provide guidance in implementing them without and delay on the original planning. This implication is exemplar and give a lot of satisfaction in working with them."